Alexei Drummond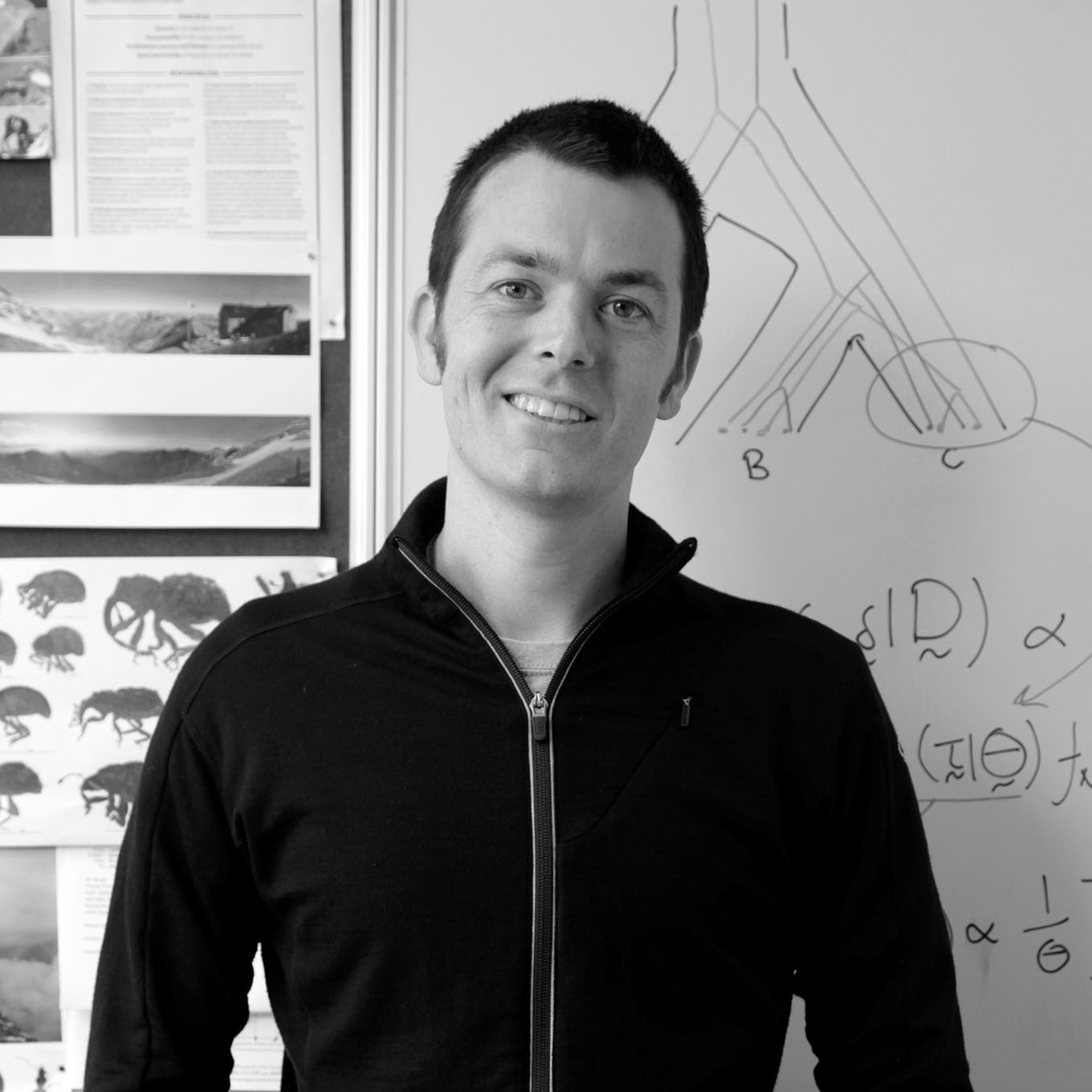 I am an evolutionary biologist, computational scientist, trail runner, rock climber, hiker, bird-watcher, environmentalist and atheist.
I am the Director of the Centre for Computational Evolution at the University of Auckland, co-inventor of the academic open-source software BEAST and co-founder of the commercial Geneious scientific software package.
I advocate open science (collegial, cooperative, equitable, transparent), including open access, open data and open source.
I have >20 years of Java programming experience and research expertise in computational biology, especially for understanding evolutionary biology, population genetics and the epidemic spread of infectious diseases through analysis of genomic diversity and related data.
I completed my BSc (1996) and PhD in Bioinformatics (2002) at the University of Auckland. I spent 3 years at the University of Oxford doing post-doctoral research in the Department of Statistics and the Department of Zoology before returning to the University of Auckland in 2005 to take up a Lecturership in Bioinformatics in the Department of Computer Science.
Specialties: Evolution, Computational biology, Java programming, Bayesian inference, Markov chain Monte Carlo, molecular evolutionary theory, biological sequence analysis, population genetics, coalescent theory, phylodynamics.
@alexeidrummond Google Citations ORCID Publons
Employment history
Mar 2019- present, Professor of Computational Biology, School of Biological Sciences & School of Computer Science, University of Auckland
Feb 2013- Feb 2019, Professor of Computational Biology, Department of Computer Science, University of Auckland
Feb 2009 – Jan 2013, Associate Professor, Department of Computer Science, University of Auckland
Feb 2007 – Jan 2009, Senior Lecturer, Department of Computer Science, University of Auckland
Nov 2006 – August 2016, Director, Biomatters Ltd
July 2005 – Sep 2008, Chief Scientist, Biomatters Ltd
Jul 2005 – Jan 2007, Lecturer, Department of Computer Science, University of Auckland
Dec 2003 – Jun 2005, Postdoc, Evolutionary Biology Group, Department of Zoology, University of Oxford
Jun 2002- Dec 2003, Postdoc, The Genome Analysis & Bioinformatics Group, Department of Statistics, University of Oxford
Jun 2002- Dec 2003, Postdoc, Ancient Biomolecules Centre, Department of Zoology, University of Oxford
Dec 1996 – Feb 1998, Software developer, Peace Software, Auckland, NZ
Education
2002, PhD in Bioinformatics, School of Biological Sciences, University of Auckland, Auckland
1996, BSc in Biology and Computer Science, University of Auckland, Auckland
Distinctions/Honours
Clarivate Highly Cited Researcher (highlycited.com), 2021
James Cook Research Fellow (2020-2021), Royal Society of New Zealand Te Apārangi, awarded 2019
Thomson Reuters Highly Cited Researcher (highlycited.com), 2019
Fellow of the Royal Society of New Zealand, 2015
Thomson Reuters Highly Cited Researcher (highlycited.com), 2014
Research Medal, New Zealand Association of Scientists, 2011
North and South New Zealander of the Year in Science, 2011
Mitchell Prize, International Society for Bayesian Analysis, 2011 [With co-authors]
Rutherford Discovery Fellowship, Royal Society of New Zealand, 2010
Hamilton Memorial Prize, Royal Society of New Zealand, 2007
Best Doctoral Thesis, Faculty of Science, University of Auckland, 2002
Society for Systematic Biology, Ernst Mayr Award, 2001
New Zealand ACM Programming Competition Overall Champion, 1996
Posts
subscribe via RSS