An update on sport climbing progress
My first outdoor lead climb was on 16th March 2019, about a month before my 43rd birthday.
Soon afterwards, in mid 2019 I came up with the personal goal of (cleanly) lead climbing at least five different climbs of each grade up to 24 (7A+ / 5.12a) and one climb of 25 (7b / 5.12b) by the time of the Tokyo Olympics in July 2020. The idea was that the grade 25 undeniably represents an "expert" level of climbing. I think of this as the equivalent of a sub-1:30 half marathon, or sub-3hr marathon time, which are often used as benchmarks for very good (amateur) runners. Likewise in climbing, 5.12 (in the YDS grading system used in North America) has become a magical grade of difficulty representing the doorway to elite-level climbing. Thus there are books like "How to Climb 5.12" by Eric J. Horst, which was first published in 1994 and now in its third edition.
I thought it would be cool to try to reach an "expert" level of climbing ability in time to watch the sport in its first Olympics.
The problem I have with setting personal goals for myself is that if I commit to them then they become an all-consuming obsession. Though the Olympics have now been delayed, I am still trying to achieve the goal I set out for myself a year ago. This is a report on my progress.
Note: Since some of the climbs I have done (those in Squamish, Canada) are graded using the Yosemite Decimal Scale (North American route climbing), it was necessary to apply a conversion of these grades to the Ewbanks climbing scale to compare them to the climbs that I did in New Zealand and Tonga.
This analysis is based on data available from my public profile at https://www.thecrag.com/climber/alexeidrummond.
This summary covers the period 2019-03-16 to 2020-05-25.
The number of route climbs (including attempts) during the period of analysis was 399.
The number of clean climbs on lead was 226.
The number of hang dogs and failed attempts was 166.
The number of distinct routes climbed cleanly on lead was 205.
The number of distinct crags at which a route was climb cleanly was 24.
The figure presents unique clean climbs in four views: (a) by month, (b) "grade pyramid", (c) accumulated through time, (d) by crag.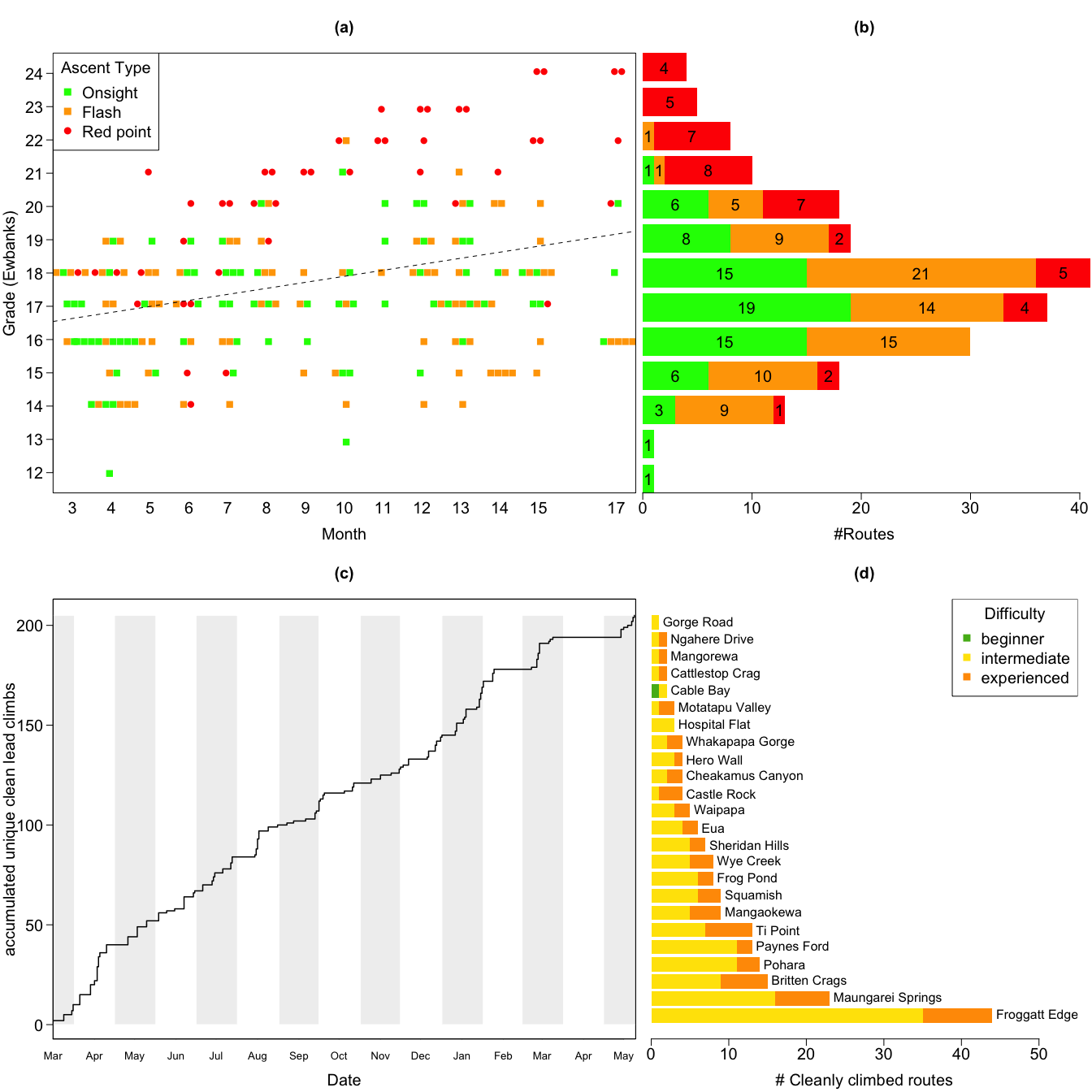 Grade conversion table

| Yosemite decimal scale | Ewbanks | Difficulty |
| --- | --- | --- |
| 5.5 | 10 | beginner |
| 5.6 | 12 | beginner |
| 5.7 | 14 | intermediate |
| 5.8 | 16 | intermediate |
| 5.9 | 17 | intermediate |
| 5.10a | 18 | intermediate |
| 5.10b | 19 | experienced |
| 5.10c | 20 | experienced |
| 5.10d | 20 | experienced |
| 5.11a | 21 | experienced |
| 5.11b | 22 | experienced |
| 5.11c | 22 | experienced |
| 5.11d | 23 | experienced |
| 5.12a | 24 | experienced |
| 5.12b | 25 | expert |
| 5.12c | 26 | expert |
| 5.12d | 27 | expert |