My first year of outdoor sport climbing was 2019. I had started top-rope climbing indoors in December 2018. But my first outdoor lead climb was in March 2019. I fell in love with the sport and ended up climbing >140 routes outdoors in three different countries in that first year.
Since some of the climbs (those in Squamish, Canada) were graded using the Yosemite Decimal Scale (North American route climbing), it was necessary to apply a conversion of these grades to the Ewbanks climbing scale to compare them to the climbs that I did in New Zealand and Tonga.
This analysis is based on data available from my public profile at https://www.thecrag.com/climber/alexeidrummond.
This summary covers the period 2019-01-01 to 2019-12-31.
The number of route climbs (including attempts) during the period of analysis was 270.
The number of clean climbs on lead was 155.
The number of hang dogs and failed attempts was 108.
The number of distinct routes climbed cleanly on lead was 144.
The number of distinct crags at which a route was climb cleanly was 15.
The figure presents unique clean climbs in four views: (a) by month, (b) "grade pyramid", (c) accumulated through time, (d) by crag.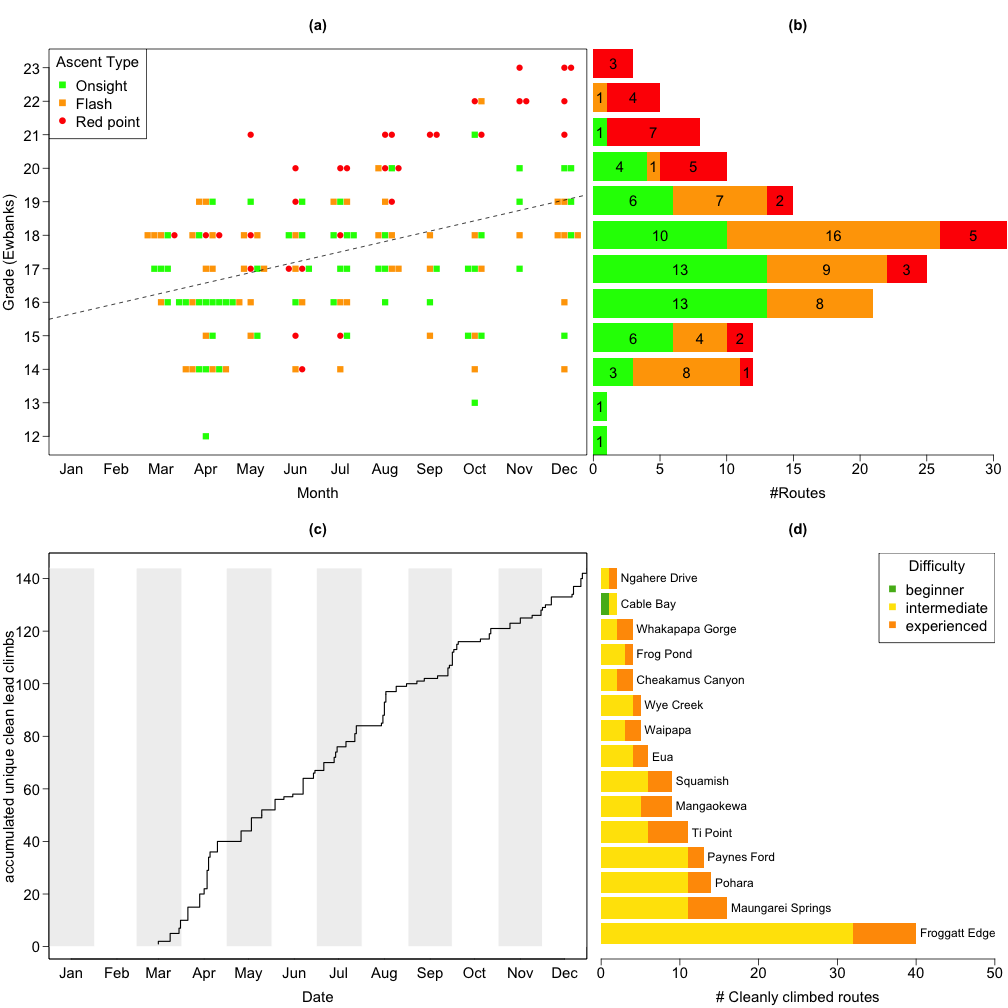 | Yosemite decimal scale | Ewbanks | Difficulty |
| --- | --- | --- |
| 5.5 | 10 | beginner |
| 5.6 | 12 | beginner |
| 5.7 | 14 | intermediate |
| 5.8 | 16 | intermediate |
| 5.9 | 17 | intermediate |
| 5.10a | 18 | intermediate |
| 5.10b | 19 | experienced |
| 5.10c | 20 | experienced |
| 5.10d | 20 | experienced |
| 5.11a | 21 | experienced |
| 5.11b | 22 | experienced |
| 5.11c | 22 | experienced |
| 5.11d | 23 | experienced |
| 5.12a | 24 | experienced |
| 5.12b | 25 | expert |
| 5.12c | 26 | expert |
| 5.12d | 27 | expert |