Climbing trip to Mangaokewa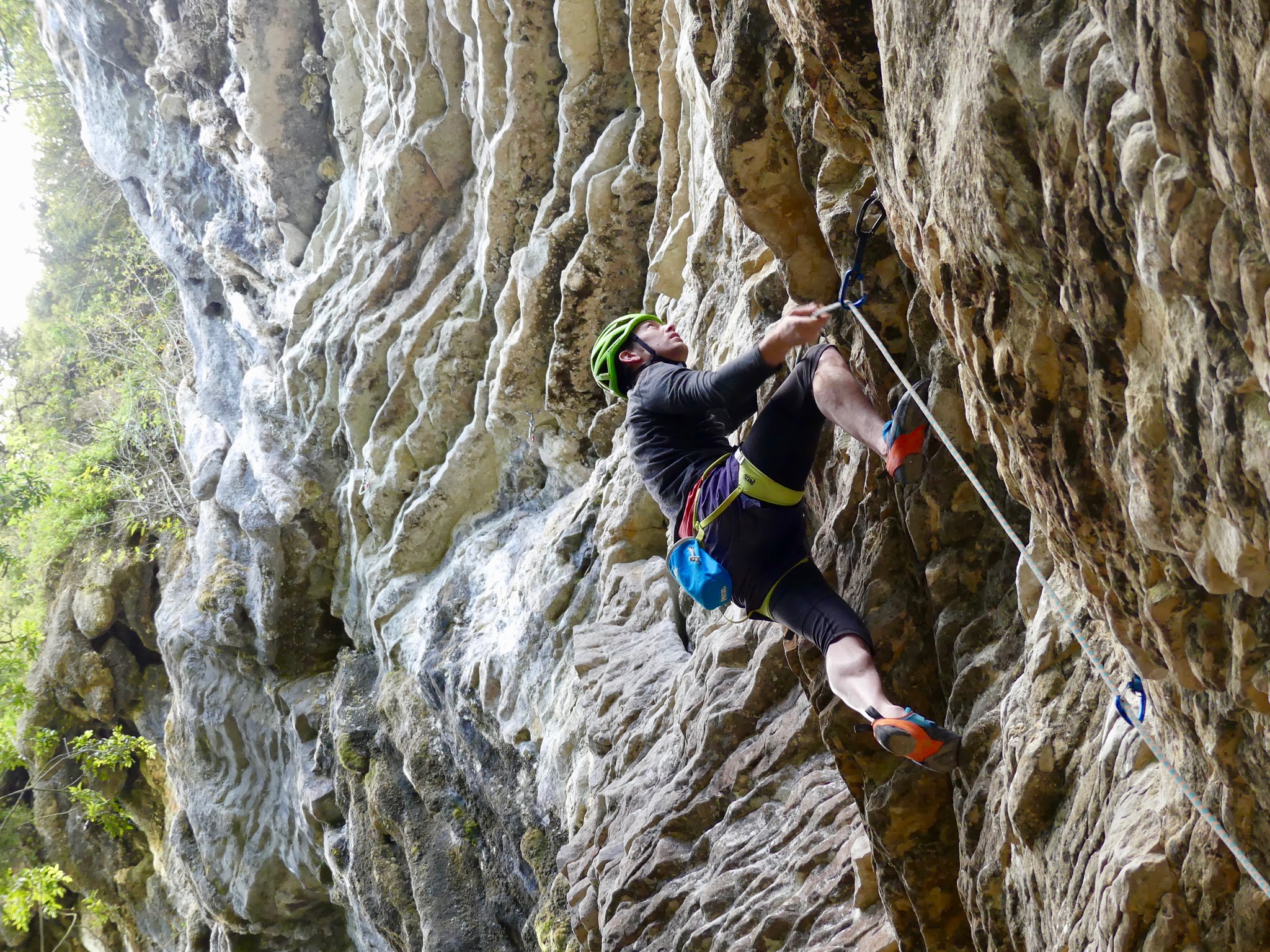 Alex, Aiden and I did an overnight trip on Saturday. We went down to Mangaokewa just out of Te Kuiti for some limestone sport climbing. We left Auckland around 4pm on Friday afternoon and arrived in Te Kuiti just before 7pm. We had a nice dinner in Te Kuiti and stayed in Waitomo Lodge Motel overnight. Breakfast was muesli in the morning, followed by a coffee and then we headed out to the crag. I don't think we would do it this way the next time though, as traffic on Friday night was pretty bad and the best time for winter climbing at Mangaokewa is probably noon-4pm anyway. So we should probably have driven down early morning and returned Sunday morning. But luckily it was a beautiful winter day and warmer than we could have hoped for. Amazingly we also had the crag to ourselves for the whole morning!
The main target for the day was sending "Trojan Kat", a really fun grade 20 (~ 5.10c/d) in the middle of the Colosseum, the main wall of Mangaokewa crag. But first we warmed up on "French Ethics", a nice easy crack climb (grade 15) a little to the left of "Trojan Kat".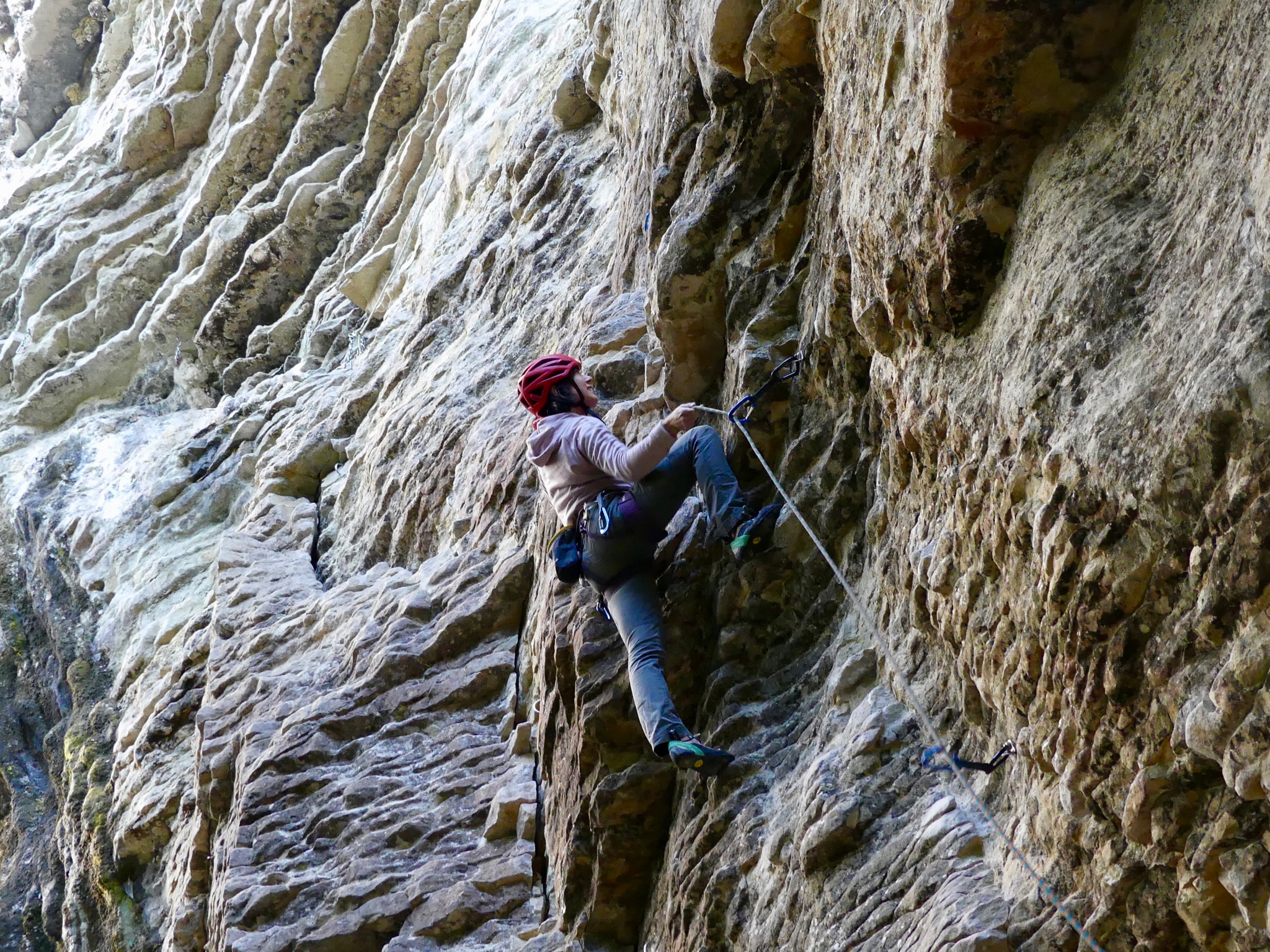 Then we moved on to the main climb and I tried to redpoint "Trojan Kat". I had first tried this route a couple of months ago on our first visit to Mangaokewa. That time I topped it twice, each time with one rest on the rope. But since it had been so long, I had forgotten the beta, and I did the same thing on my first attempt this trip. Alex was up next, but for her it was only her first lead attempt (she top-roped this route on our previous visit to the crag). She suffered the same fate as I did, but on her way down she ticked (with chalk) the crimps and slopers that we needed to use to move past the last bolt. We had both also locked in the beta for the lower crux, so that we didn't waste energy on the lower parts. My second attempt of the day was successful with the help of a smoother, more efficient, lower section and knowing exactly which hands to use at the top! I was very happy with this, as it was only the third route over grade 19 that I had climbed cleanly on lead. Alex is very closely matched to me in climbing ability, and she sent it cleanly on her second attempt as well. In between Aiden had a couple of cracks at the route on top-rope and very impressively made it to the third bolt on his second attempt! We were all very satisfied. After that Aiden picked the next climb, a grade 17 a bit further right that started quite steeply along a crack but eased a lot on the upper half. We all climbed it cleanly on our first attempts.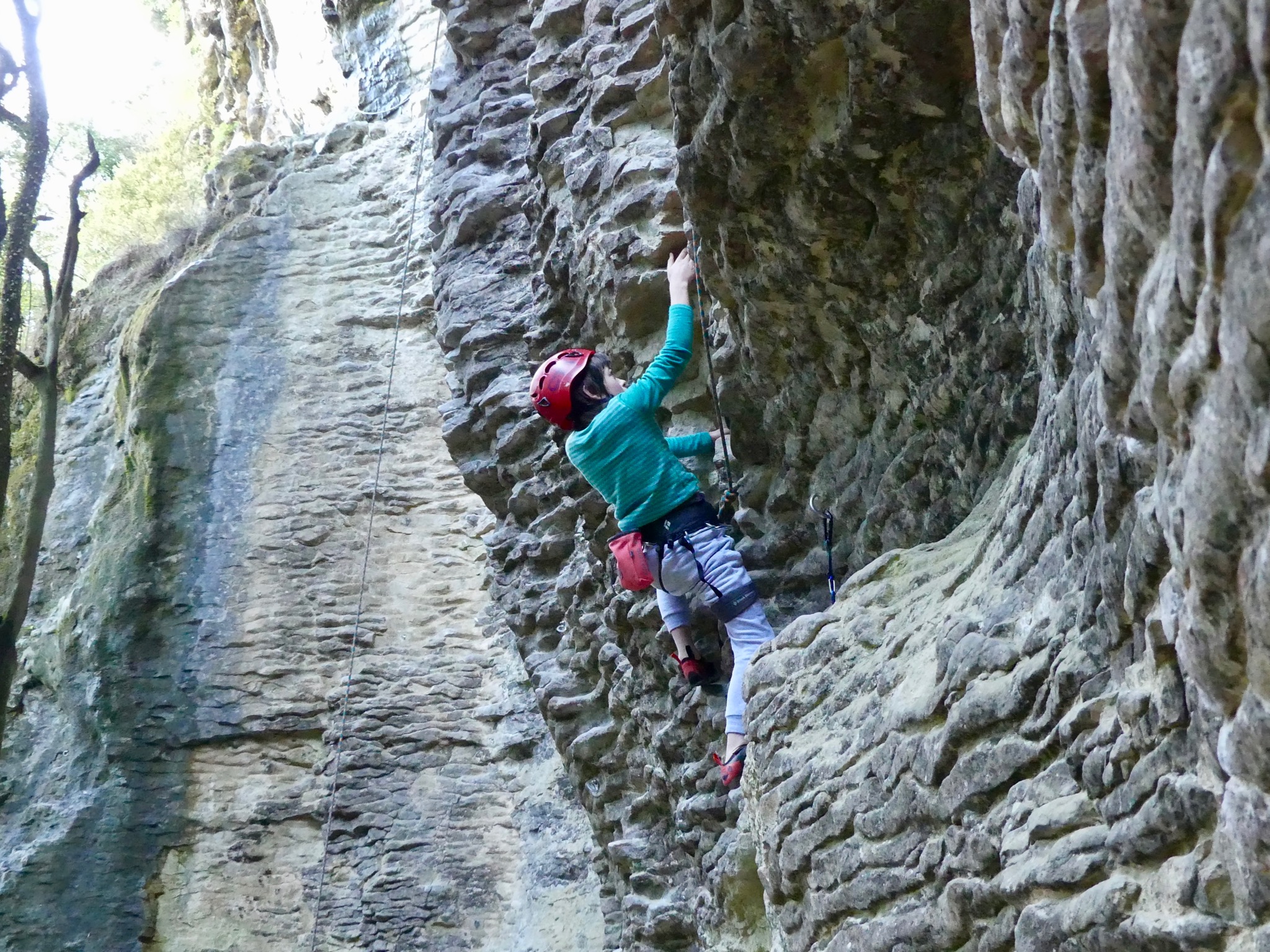 After lunch we had a little look left of the Colosseum at some of the other walls at the crag that we hadn't yet investigated. But after weaving our way through the bush along the bottom of the cliffs we realised that everything left of the Colosseum was wet from seepage, even though it was a beautifully fine day. Too much rain had accumulated in the forest above the cliffs earlier in the week, and it was all coming out and running down the walls.
So for a final session we went back across to the Cheap Seats, which are further right from the Colosseum and also usually dry. There we tried a nasty little route called "Bolting 101" (grade 20) without success (I think we were trying to climb on the wrong side of the arete). Nevertheless I managed to get a quickdraw into the second bolt, but we couldn't get further than that. Eventually, we declared defeat and Alex climbed "Johnny P" (grade 17) which ends at the same anchor so we could retrieve our gear. Any other day we would have continued climbing, but Aiden was staying the night with a friend back in Auckland and was eager to get back, so we headed back up just after 3pm.
A whirlwind trip, but absolutely worth it just for the success on Trojan Kat :) There is another grade 20 next to it called Storming the Gates of Troy that we have our eye on for the next trip. :)